At Four Goats Farm, our animals are ecologically raised out on the land in our pastures, forests, and scrublands. With quality nutrition and flavor in mind, we provide pasture-raised & certified-organic chicken, pasture-raised ducks, forest-raised pork, and 100% grass-fed goat.
The goal of the farm is to transform rough, marginal land into fertile, productive land through rotational animal grazing, while also providing delicious, nutrient-dense food. Animals, especially ruminants, can play an incredible role in sequestering carbon in the soil and building biomass by grazing and fertilizing the landscape as they move through.
Four Goats Farm has moved from Delta, ON, where we were sharing land owned by Aman Farms – a certified organic farm run by Richard and Karen Cook – to Iroquois, ON, where we are partnering with Upper Canada Creamery.
On the farm, we raise our pigs on 80 acres of forest. We are using the pigs to bring the unused forest back into production. It is the perfect environment for raising pigs; the hickory, maple, and apple trees in the forest provide food and shelter for the pigs and keep things shady and cool during the hot summer days.
Our poultry and goats are raised on the poorer pastures on the farm. Poultry play an amazing role in bringing a huge amount of fertility to the land and improving the pastures. The goats help clear brush and the rougher parts of the pasture.
Kevin Sammut - Owner/Farmer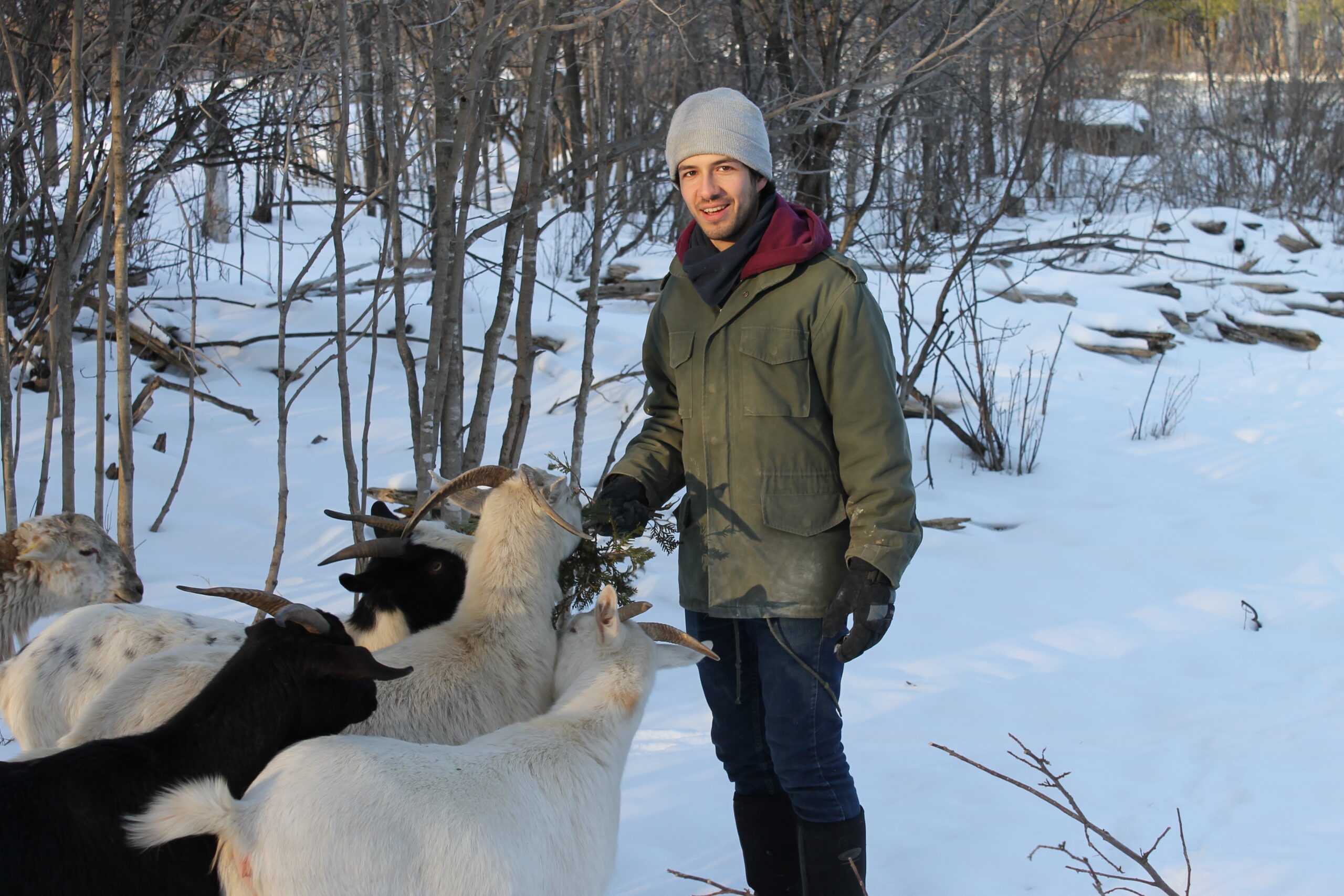 I started my journey towards regenerative agriculture through food. Following a passion for cooking and eating delicious food, I started working in a restaurant after finishing high school and began pursuing a career as a chef.
While working in restaurants, I found that one of the most exciting things about cooking was being able to work with the quality produce we would get in the kitchen. I liked the idea of a farm-to-table restaurant – being able to serve food picked that morning was a level of quality and freshness you couldn't get anywhere else.
I ended up moving to Australia and working in a farm-to-table, fine dining restaurant called Brae. Here, they served some of the best quality products I had ever worked with on their extensive tasting menu, and dealt directly with the farmers who supplied them. During this time, I discovered permaculture and some of the incredible farmers spreading their knowledge about ecological farming and regenerative agriculture (most notably Joel Salatin, Richard Perkins, and Greg Judy).
After 5 years of working in kitchens, I realized that the late nights and work environment of kitchens wasn't conducive to the type of life I wanted, and found myself being drawn more and more towards the production of food and the amazing impact it can have on the environment. After helping out on a friend's incredible farm in Cornwall, England, and moving back home to Canada to work on a farm in BC, I started looking for an opportunity to start something of my own.
I met Richard and Karen Cook through Farmlink, and we shared the common goal of regenerative farming. In December 2020, I moved to Aman Farms to begin building Four Goats Farm.
In the spring of 2022, I moved my farm and animals to Upper Canada Creamery to work together with Josh and Ellen Biemond at their farm in Iroquois, ON.